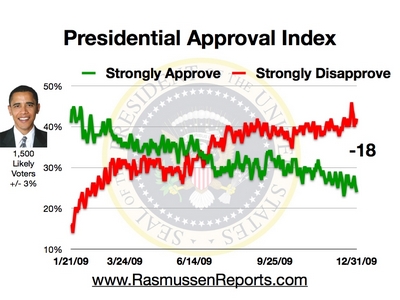 A 61% approval on immaculation day has fallen to 50% in the Real Clear Politics average of 11 different polls, and to 46% in both the Rasmussen and Quinnipiac Poll. The Rasmussen polls are well regarded for their large sample (1500) and they cover "likely voters" as opposed to merely registered voters or just people who answer the telephone, as in most other polls.


Click Photo to Enlarge. (Source: Big Government)
Obama's approval index stands at a minus 18 by Rasmussen today, has been as high as a minus 21 in the last few weeks. The approval index is the difference between the percentage of respondents who strongly approve and strongly disapprove. This index is informative because it registers the intensity of feelings toward Obama and voters with intense feelings are more likely to actually vote on election day. Since is only votes and not responses to pollsters questions that count, the approval index is an important number.
Fouad Ajami blasts Obama's year of little progress at home or abroad in today's Wall Street Journal. Says Ajami: "No despot fears the president, and no demonstrator in Tehran expects him to ride to the rescue."
Obama has spurned America's allies and embraced enemies and despotic dictators. The latter are not returning the love, however. Even Cuba is now critical as reported in today's New York Times.
The usually supplicant and sycophantic Maureen Dowd has Obama disillusionment in her recent NYT column: As the Nation's Pulse Races, Obama Can't Seem to Find His
On the Dowd column Ed Morrissey said "If Obama has lost Maureen Dowd, then perhaps the outrageous outrage that erupted this morning over Cheney's remarks should be reconsidered. Be sure to read Dowd's entire column, a sentence I thought I'd never write."
On Cheney's remarks see my post from yesterday: Obama The Great Pretender
As Maureen Dowd ended her Column:
Heck of a job, Barry.

Subscribe to Blog via Email